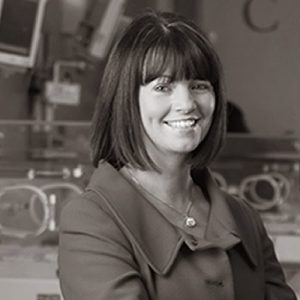 Louise Kenny (MB ChB (hons), PhD, MRCOG) is Professor of Obstetrics at University College Cork and a Consultant Obstetrician and Gynaecologist at Cork University Maternity Hospital.
Louise's post-doctoral work mainly investigated the use of metabolomic technology in the development of a screening test for pre-eclampsia. This work attracted the Society for Gynaecological Investigation President's Award and Plenary Presentation at the annual meeting in Los Angeles, 2005.
In 2006, Louise moved to Ireland to take up key role in the development of the new Anu Research Centre at Cork University Maternity Hospital and continued to develop her research programme in uteroplacental insufficiency, adverse pregnancy outcome and pregnancy loss.
In 2007, Louise was appointed as a Health Research Board Ireland Clinician Scientist. This 4 year award (of €1.6 million) is underpinning the Screening for Pregnancy Endpoints (SCOPE) Study- a prospective longitudinal case cohort of pregnancy outcome which will also contribute to the world's largest global pregnancy biobank (see www.scopestudy.net).
In July 2009, Louise was awarded a prestigious Principal Investigator Programme grant from Science Foundation Ireland to develop predictive metabolomic markers of poor pregnancy outcome. In addition she currently holds grants from The Wellcome Trust, The Children's Medical and Research Foundation, Molecular Medicine Ireland and the Health Research Board of Ireland.
In 2013, Louise led a successful bid under the Science Foundation Ireland Research Centres call to establish the first perinatal research centre in Ireland, the Irish Centre for Fetal and Neonatal Translational Research (INFANT)(www.infantcente.ie).
Louise's work has resulted in >200 peer reviewed original papers, reviews and book chapters. She is the co-Editor of the 19th Edition of `Obstetrics by Ten Teachers'- the world's leading undergraduate textbook in obstetrics and senior Editor of the forthcoming 20th editions of 'Obstetrics and Gynaecology by Ten Teachers'. In addition, Louise is a reviewer for a wide range of international journals including the American Journal of Obstetrics and Gynecology, the British Journal of Obstetrics and Gynaecology, the British Medical Journal, Clinical Chemistry, the European Journal of Obstetrics and Gynaecology, the Journal of Perinatal Medicine and Reproductive Sciences and research funding bodies such as the Medical Research Council (UK), the Wellcome Trust, Action Research, the British Heart Foundation, Wellbeing and Sparks, the Children's Medical Research Charity.